Sextans A
Irregular Galaxy Sextans A (UGCA 205, DDO 75, A1009), type Ir+ V, in Sextans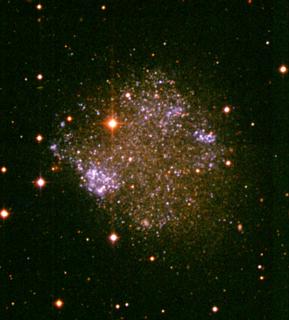 RA:

10 : 11.1

Dec:

-04 : 43

Type:

Ir+ V

RV:

Distance:

4000 kly ::

Apparent Dimension:

5.9 x 4.9 arc min

Diameter:

Brightness:

11.9 mag (vis)

Abs. Mag:

Mass:
Discovered in 1942 by Fritz Zwicky.

Image by Deidre A. Hunter of Lowell Observatory.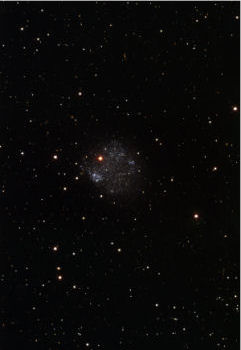 Image of the Local Group dwarf galaxy Sextans A, as observed with the KPNO Mayall 4-m telescope and Mosaic camera as part of the NOAO-sponsored Local Group Survey headed by Philip Massey of Lowell Observatory. The image is a true-color combination of images in three of the filters used by the survey.
Local Group Survey download page at CTIO
Local Group Survey home
Sextans A page from the Atlas of Nearby Dwarf Galaxies by Dan Puche (CfA, Harvard)
References
---
[Local Group Home] | [SEDS] | [MAA] | [DSS] | [NED] | [SIMBAD] | [ADS]
---
Hartmut Frommert
Christine Kronberg
[contact]
Last Modification: January 13, 2000