Serpens Dwarf, Palomar 5
Globular Cluster Palomar 5, class XII, formerly misclassified as Dwarf Spheroidal Galaxy Serpens Dwarf (UGC 9792, A 1513), in Serpens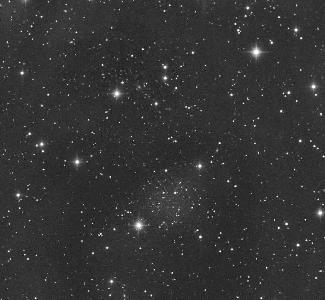 RA:

15 : 16.1

Dec:

-00 : 07

Type:

RV:

Distance:

76 kly

Apparent Dimension:

6.9 arc min

Diameter:

Brightness:

+11.8 mag

Abs. Mag:

Mass:
Discovered by W. Baade in 1950.
Independently found by A.G. Wilson in 1955.

This globular cluster, Palomar 5, was erroneously classified as nearby dwarf elliptical galaxy on various occasions and named the Serpens Dwarf. Because of its resolution into stars, it was then suspected to be a Local Group member galaxy.

The image on the right was obtained by Martin Germano.

---
[Local Group Home] | [SEDS] | [MAA] | <!a href="Dss/ds.html">[DSS]<!/a> | [NED] | [SIMBAD] | [ADS]
---
Hartmut Frommert
Christine Kronberg
[contact]