IC 10
Irregular Galaxy IC 10, type KBm or Ir +, in Cassiopeia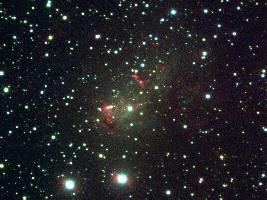 RA:

00 : 20.4 (h:m)

Dec:

+59 : 18 (deg:m)

Type:

Ir +, KBm ?

RV:

- 83 km/s

Distance:

4200 kly

Apparent Dimension:

5 x 4 '

Diameter:

Brightness:

10.3 mag vis

Abs. Mag:

Mass:
Discovered by Lewis Swift in 1889.

This galaxy was discovered by Lewis Swift in 1889, and included in the first IC catalog by J.L.E. Dreyer in 1895. However, its extragalactic nature was only noticed by Mayall in 1935. Already in 1936, Hubble considered it a Local Group member candidate (Hubble 1936), but this conjecture was only confirmed in the 1960s when Roberts (1962) as well as de Vaucouleurs and Ables (1965) determined its radial velocity, and estimated its distance.

Image by Till Credner and Sven Kohle, Bonn (Germany)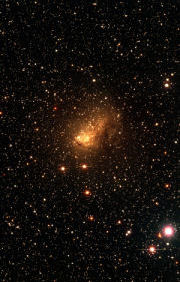 Image of IC 10, as observed with the KPNO Mayall 4-m telescope and Mosaic camera as part of the NOAO-sponsored Local Group Survey headed by Philip Massey of Lowell Observatory. The image is a true-color combination of images in three of the filters used by the survey.