<!body bgcolor="#b0d0b0" text="#000000" link="#0000ff" vlink="#ff0000"> Archived from: http://bhs.broo.k12.wv.us/homepage/alumni/dstevick/unobnewt.htm
---
Unobstructed Newtonian
"I have designed an optical system that can be thought of as an unobstructed Newtonian telescope," wrote Jose Sasian in Telescope Making #38. The design has the advantages of the Newtonian; a comfortable viewing position and the potential for a simple mounting. The secondary may be larger to avoid a turned-edge and left circular.
Which maketh Arcturus, Orion, and Pleiades
and the chambers of the south.
Which doeth great things past finding out;
yea, and wonders without number.
| | | |
| --- | --- | --- |
| | Jose Sasian relaxes behind the unobstructed Newtonian of his own design. The open frame telescope has doors which close over the optics for dust protection. | |
| | Details of Jose's toroidal secondary mounting and latching cover. The double curve is polished into this mirror by means of a simple jig. | |
| | Craig Engelhorn's rendition of the unobstructed Newtonian. The tube goes from being round at the primary to being oval at the secondary. | |
| | Front view of Craig's telescope reveals the secondary tucked out of the way. A Ronchi grating showed perfectly straight lines proving that double curve mirrors can be made well by amateurs. | |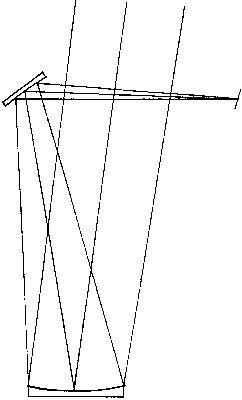 Mirror Data
Primary diameter
150mm
Radius of curvature
3600mm
Figure
paraboloid
Angle of tilt
2°.25
Distance to secondary
1400mm
Secondary diameter
46 x 65mm
Radii of curvature
5900 and
11780mm
Angle of tilt
42°.75
Distance to image
365mm
System f/number
10.92
Focal length
1638
Image plane tilt
8°
---
Author: David Stevick
[Weird Telescopes Page]
---
Curator: Hartmut Frommert [contact]
[Schiefspiegler Home] [SEDS]