Archived from: http://www.noao.edu/jacoby/more_pn/more.html
---
Planetary Nebula Sampler -- Yet More Pictures!
Here are a number of pictures of random planetary nebulae taken with the Kitt Peak 0.9-m and 2.1-m telescopes by You-Hua Chu (University of Illinois) and George Jacoby (Kitt Peak National Observatory).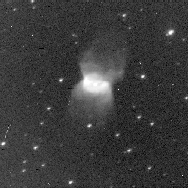 This is NGC 2346. It belongs to the class of bipolar planetaries exhibiting "butterfly" or "hourglass" morphologies. Typically, these nebulae come from somewhat younger stars than rounder planetaries.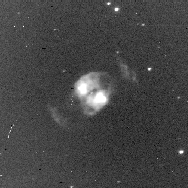 This is NGC 2371, which also has an obvious bipolar appearance. Note the pair of faint "polar caps" to the upper right and lower left which represent polar outflows, probably due to stellar winds constrained by the equatorial torus.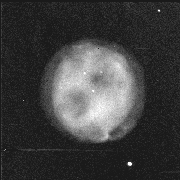 This is NGC 3587, also known as the "Owl Nebula". The morphology pattern is less obvious than for other nebulae on this page. Any suggestions?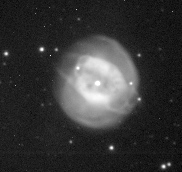 This is NGC 6804, which exhibits some evidence of an interaction with the interstellar medium, along with a characteristic central torus and outer halo. It may be similar to NGC 2371, but older and with a less constrained wind.
Author: George Jacoby
---
Curator: Hartmut Frommert [contact]
[Planetary Nebulae index] [SEDS]