NGC 6934
Globular Cluster NGC 6934, class VIII, in Delphinus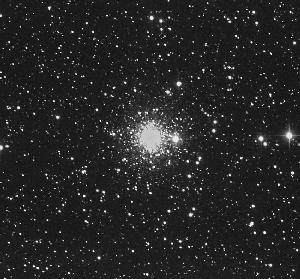 RA:

20:34:11.37

Dec:

+07:24:16.1

Distance from Sun:

50.9 kly

Distance from Galactic Center:

41.7 kly

Apparent Diameter:

8.4 arc min

Brightness:

8.83 mag vis

Radial Velocity:

-411.4 +/- 1.6 km/s

Diameter:

ly

Abs. Mag:

-7.45 Mag vis
Discovered by William Herschel on September 24, 1785.

William Herschel discovered globular cluster NGC 6934 in Delphinus on September 24, 1785 and cataloged it as H I.103.

The image on the right was obtained in October 2002 by Martin Germano with his 14.5" f/5 Newtonian stopped to f/6 (12"), exposed 110 minutes on hypered Tech Pan 2415 film.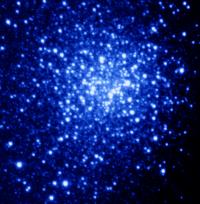 This image was taken with the 8.2-meter Gemini North telescope. It was taken in the optical or visual part of the electromagnetic spectrum, without using the adaptice optics feature. Clicking on the image leads you to a comparison image with another one which is an IR image taken with the use of adaptive optics, which make star images sharper.
Credit: Gemini Observatory, US National Science Foundation, and the University of Hawaii Institute for Astronomy
More information on the small image (N.A. Sharp, NOAO)
More information on the large image (without vs. with adaptive optics; by N.A. Sharp, NOAO)
More information on the NGC 6934 infrared image, using adaptive optics (also by N.A. Sharp, NOAO)

---
[MW Globulars] | [NGC] | [DSS] | [SIMBAD] | [ADS] | [GGC-DB]
---
Hartmut Frommert
[contact]
[SEDS]