NGC 6553
Globular Cluster NGC 6553, class XI, in Sagittarius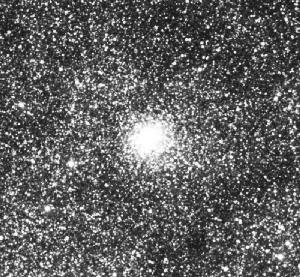 RA:

18:09:17.60

Dec:

-25:54:31.3

Distance from Sun:

19.6 kly

Distance from Galactic Center:

7.2 kly

Apparent Diameter:

8.2 arc min

Brightness:

8.06 mag vis

Radial Velocity:

-3.2 +/- 1.5 km/s

Diameter:

ly

Abs. Mag:

-7.77 Mag vis
Discovered by William Herschel on February 24, 1784.

William Herschel discovered this object on February 24, 1784. He initially thought it was a planetary nebula, and cataloged it as H IV.12. This was Herschel's first discovery of a new globular cluster, the first of a total of 37 discoveries.

The image in this page was obtained by Martin Germano.



---
[MW Globulars] | [NGC] | [DSS] | [SIMBAD] | [ADS] | [GGC-DB]
---
Hartmut Frommert
[contact]
[SEDS]