NGC 5466
Globular Cluster NGC 5466, class XII, in Bootes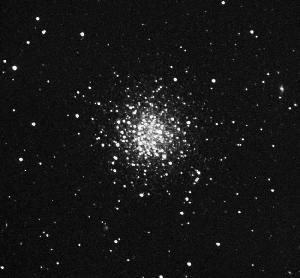 RA:

14:05:27.29

Dec:

+28:32:04.0

Distance from Sun:

52.2 kly

Distance from Galactic Center:

53.1 kly

Apparent Diameter:

11.0 arc min

Brightness:

9.04 mag vis

Radial Velocity:

+110.7 +/- 0.2 km/s

Diameter:

ly

Abs. Mag:

-6.98 Mag vis
Discovered by William Herschel on May 17, 1784.

NGC 5466 was cataloged by William Herschel as H VI.9, following its 1784 discovery.

The image in our page was obtained by Martin Germano in July 2002 from Mt. Pinos area in southern California. It was taken with his 14.5-inch f/5 Newtonian (stopped to 12-inch f/6), and was exposed 110 minutes on hypered Tech Pan 2415 film.



---
[MW Globulars] | [NGC] | [DSS] | [SIMBAD] | [ADS] | [GGC-DB]
---
Hartmut Frommert
[contact]
[SEDS]