NGC 1261
Globular Cluster NGC 1261, class II, in Horologium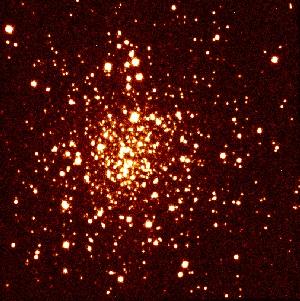 RA:

03:12:16.21

Dec:

-55:12:58.4

Distance from Sun:

53.1 kly

Distance from Galactic Center:

59.0 kly

Apparent Diameter:

6.9 arc min

Brightness:

8.29 mag vis

Radial Velocity:

68.2 +/- 4.6 km/s

Diameter:

ly

Abs. Mag:

-7.80 Mag vis
Discovered by James Dunlop on November 24, 1826.

James Dunlop discovered this globular cluster on November 24, 1826 and cataloged it as Dunlop 337.

The image in this page was obtained with the SOFI infrared multimode instrument on the ESO 3.58-m New Technology Telescope at La Silla, Chile. This is a 12-second exposure through a H-filter at 1.65 micron.